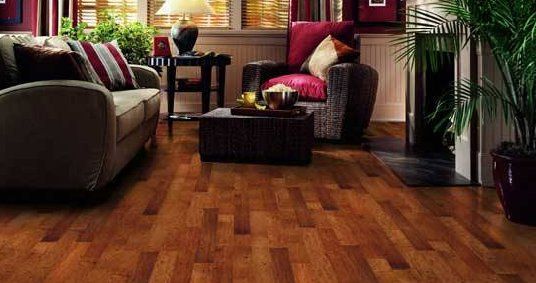 Wood floors come in a variety of styles to meet the demands of today's busy lifestyles - factory finished, unfinished, solid, engineered, strip, plank, parquet, and acrylic impregnated.
Choosing the style that is best for you is an important decision, and will be based on a variety of issues including your lifestyle, your decorating style, and the area in which you live. Consider consulting with a wood flooring professional in your area to weigh the advantages of each alternative.
Three Types of Wood Floors
Solid Flooring
All wood flooring, regardless of width or length, that is one piece of wood from top to bottom is considered solid flooring. Solid flooring gives you a great opportunity for customization. Your choice of species, stains and finishes all contribute to the personalization of a solid floor. This is an excellent choice in most areas of a home on the ground level or above.

Engineered Flooring
This wood flooring product consists of layers of wood pressed together, with the grains running in different directions. It is available in 3 and 5 ply. Engineered flooring is perfect for those areas of the house where solid wood flooring may not be suitable, such as basements, kitchens, powder rooms, and utility rooms. Because the grains run in different directions, it is more dimensionally stable than solid wood.


Acrylic Impregnated Floors
Acrylic Impregnated floors is a process where acrylics are injected into the wood itself, creating a super-hard, extremely durable floor. This type of flooring is often used in commercial installations, like shopping malls and restaurants, however, they are right at home in busy households as well.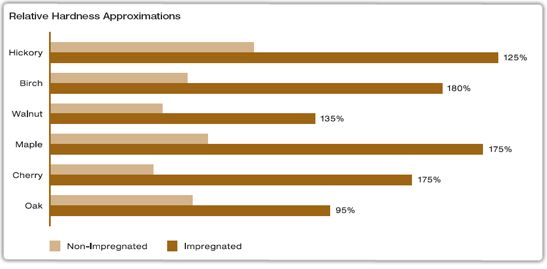 Types in Rooms (Solid and Engineered)
Advances in wood flooring during the past few years mean that you now can have wood flooring anywhere in your home or business. Where you want to put it, however, will determine the type of wood flooring you can use.

Styles of Wood Floors
Strip Flooring
Strip flooring is linear flooring that is usually 2 1/4", 1 1/2", or 3 1/4" wide. It creates a linear effect in a room often promoting the illusion of a larger space.


Plank Flooring
Plank flooring is also linear, however, it is wider in width. Common widths of plank flooring are 3", 4", 5", and 6".


Parquet Flooring
Parquet flooring is a series of wood flooring pieces that create a geometric design.







Grades
The appearance of the wood determines its "grade." All grades are equally strong and serviceable, but each affords you a different look.
Clear
Clear wood is free of defects, though it may have minor imperfections.


Select
Select wood is almost clear, but contains some natural characteristics such as knots and color variations.


Common
Common wood (No. 1 and No. 2) has more natural characteristics such as knots and color variations than either clear or select grades, and often is chosen because of these natural features and the character they bring to a room. No. 1 Common has a variegated appearance, light and dark colors, knots, flags and wormholes. No 2 Common is rustic in appearance and emphasize all wood characteristics of the species.


First
First grade wood has the best appearance, natural color variations and limited character marks.


Second
Second grade wood is variegated in appearance with varying sound wood characteristics of species.


Third
Third grade wood is rustic in appearance allowing all wood characteristics of the species.
Cuts
The angle at which a board is cut determines how the finished product looks. Wood flooring is either plainsawn, quartersawn or riftsawn.
Plainsawn
Plainsawn is the most common cut. The board contains more variation than the other two cuts because grain patterns resulting from the growth rings are more obvious.


Quartersawn
Quartersawing produces less board feet per log than plainsawing and is therefore more expensive. Quartersawn wood twists and cups less and wears more evenly.


Riftsawn
Riftsawn is similar to quartersawing, but the cut is made at a slightly different angle.