BR Carpet supplies and installs a wealth of flooring option. In addition to our most popular selections, check out some of the following stylish and affordable choices below! Interested in something specific but don't see it listed here?
Just ask
! Many more options are available just by stopping in our
Showroom and Design Center
or scheduling an
On-Site Consultation
at your location.
Bamboo Flooring
is a newcomer in the modern flooring industry but has quickly gained a stellar reputation as a beautiful, eco-friendly flooring option, as it is actually made of grass, not wood. It is very durable, elegant and versatile. The natural variations of color that is unique to bamboo come from carbonization and are usually a honey brown color or light tan.
Carpet Tiles
have been a practical, popular option for decades. They are easier to install for DIYers than many other flooring products and are easy to replace individually should a portion of your floor be stained or damaged, rather than replacing an entire carpet. That alone has made carpet tiles extremely popular in schools, rental homes and commercial settings. And because of their size and versatility, carpet tile are also an excellent choice when installing flooring in oddly shaped rooms. Carpet tiles come in beautiful, alternating patterns, providing an almost mosaic-like appearance, as well as single-color and consistent patterns, much like a standard carpet roll. (Above: Tandus carpet tile-Vivere Collection)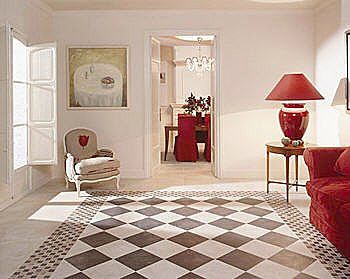 Ceramic Tile
is a popular, less-expensive option in place of marble or granite. This traditional flooring material has gained increase appeal in recent years as modern manufacturing techniques have opened up a wealth of design options, such as having a favorite photo embedded in the ceramic tile, creating a realistic floor that looks like water, or creating artistic designs with the tile on both floors and walls. (At right: Armstrong Ceramic Tile).
Glass Tiles
are another unique option available in a wide variety of shades and textures with a high-gloss finish. The tiles will last for a life-time and are very eye-catching. Frequently found in kitchen backsplashes and in bathrooms, glass tile provides a beautiful, classy addition to any environment. Marble flooring gives any room a clean, rich feel. The gorgeous tiles come in different sizes, (most commonly around 12×12?) and come in a wide variety of colors and patterns. Marble products are processed everywhere in the world from metamorphic rock blocks that contain mostly calcium carbonate that are quarried. (At right: daltile's Cristallo glass tiles)





Mosaic Tiles
allow for
an infinite number of creative options for both the home or business owner and the artisan installing them. Mosaics can be installed on the entire floor, or can be used as accent pieces among another type of flooring, such as stone or ceramic tiles. The possibilities are endless as there are innumerable designs, colors, styles and even materials available for mosaic floors or walls. (At right: Mosaic borders by daltile)
Porcelain Tiles
are a man-made, extremely dense product with a very low water-absorbency rate. This means that even when the tiles are not glazed, they are naturally resistant to moisture, stains, frost and will withstand heavy pressure for years. Though used primarily as a flooring material, porcelain tiles are also used as a beautiful and popular decorative item. Porcelain is also easy to clean and maintain. (At right: daltile's Capriccio porcelain tile)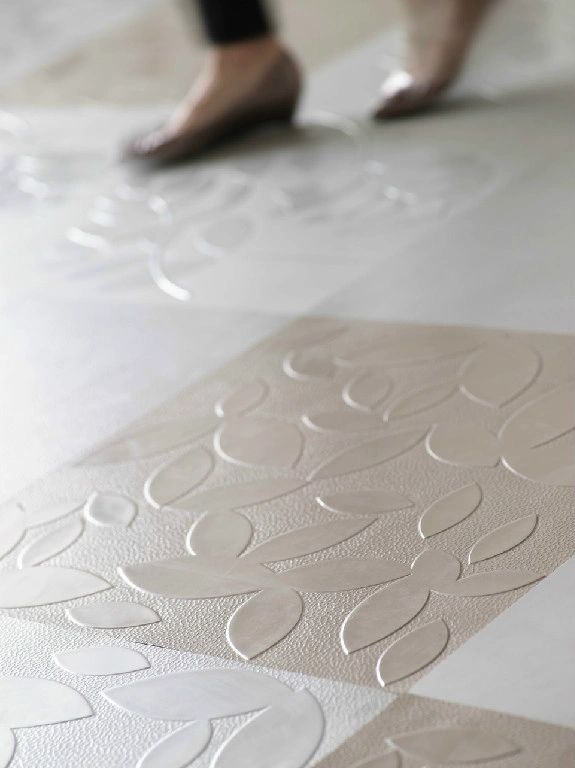 Rubber Flooring
has long been a popular choice for gyms, exercise rooms, daycares, playrooms and anywhere else that the bouncy, comfortable flooring material is required. It comes in many colors and patterns, retains its color and sheen for years, and is made from recycled materials. Rubber flooring is bacteria-resistant which is why it is frequently found in hospitals, laboratories and schools. The extremely springy material has also led to rubber flooring being referred to as "anti-fatigue flooring," because it is specifically designed to ease the strain on one's body from standing for extended periods and reduces the risk of injuries. As a result, it is commonly found in environments such as hospitals, stores and commercial kitchens as well as in child-care settings. And because rubber flooring is non-conductive, it is also commonly used as a static control method in environments where static can damage electronics. (At right: Johnsonite's Folio collection)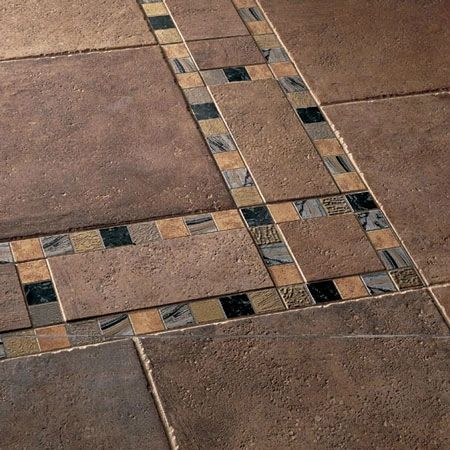 Terracotta Tiles
have a beautiful, natural appeal, particularly when installed in their unglazed but sealed state. The tiles come in a variety of shapes – not merely squares – and have such a unique texture and look to them that you can be sure your floor will have a distinctive, eye-catching look. Terracotta floors are easy to care for and can last for years. (At right: daltile's Terra Antica)